Seamless bathroom design
RainDrain: a drain with a system
A sensational sight in the shower
A sensational sight in the shower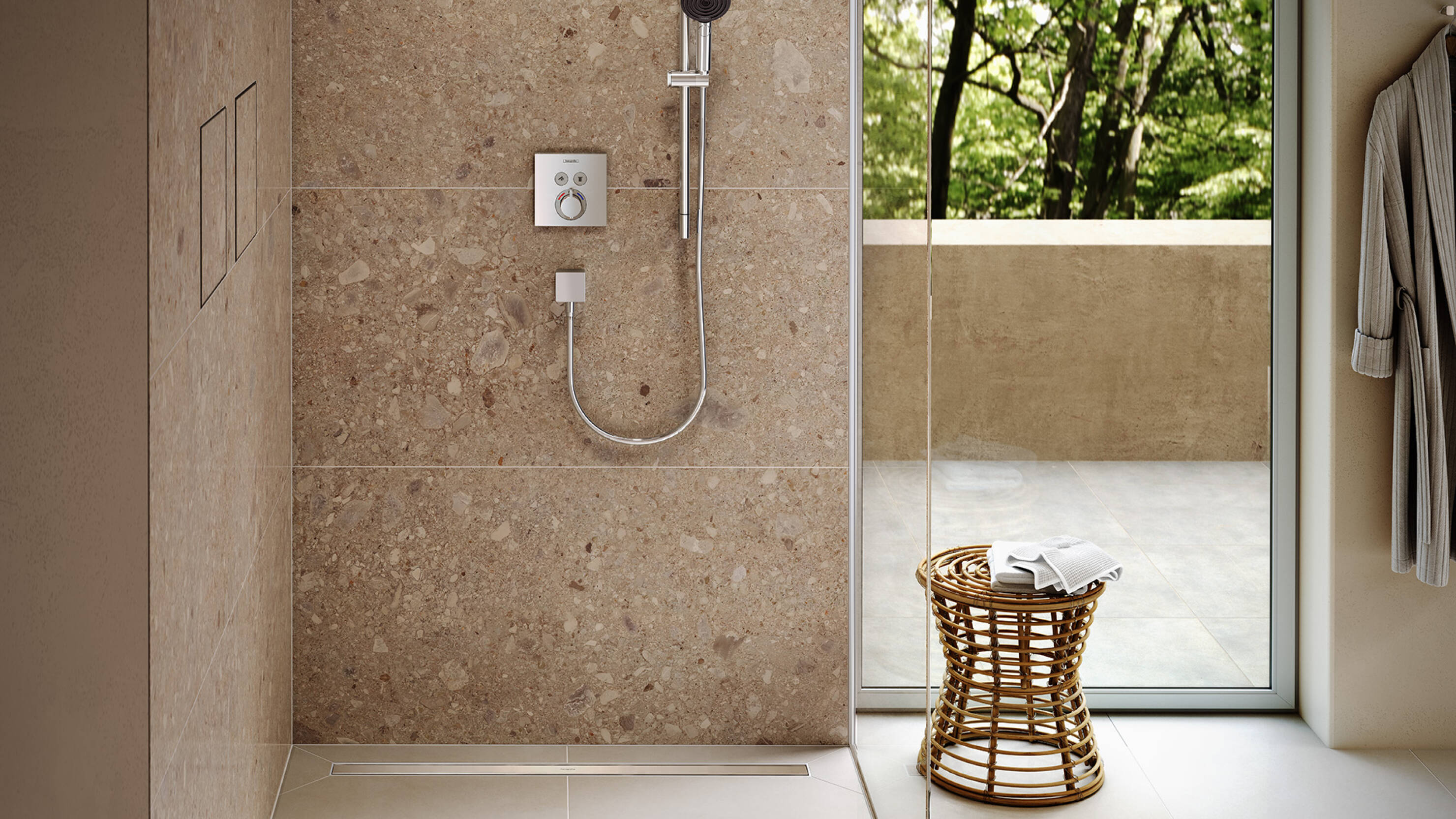 A sensational sight in the shower    
Does your customer want a shower that goes with their holistic bathroom design? hansgrohe provides options to round off the dream bathroom with a range of high-quality shower drains: RainDrain provides seamless design and maximum convenience in one product. The finish of the products for the floor-level shower perfectly matches the rest of our range. You can harmoniously pair bathroom taps, shower heads, storage solutions, and shower drainage products to suit your customer's style.
RainDrain flexibly fits all dream showers and is an impressively sophisticated system solution. When it comes to hansgrohe linear and point drains, everything is made to match, from the surface finish to the cover right through to the drain. This provides reassurance during installation. The low installation depth makes RainDrain suitable for a wide range of installation scenarios, both in new builds and renovations. 
Your customers can enjoy maximum showering indulgence under the XXL overhead shower with no problems whatsoever: The innovative Dryphon siphon solution can provide a high drain performance of up to 60 l/min with RainDrain. The high-performance mechanical odour trap is included with every drainage system pre-fab set and can replace the siphon included with the uBox universal (basic set) and its drain performance of up to 42 l/min. As a complete set including siphon, RainDrain point drains do not need a separate uBox universal.
RainDrain shower drainage channels: flexibility in all stages of life
From the overhead shower to the floor drain, the shower should suit the style of the project. There is a choice of six different shower drainage channels for the perfect installation based on the circumstances and style in the bathroom.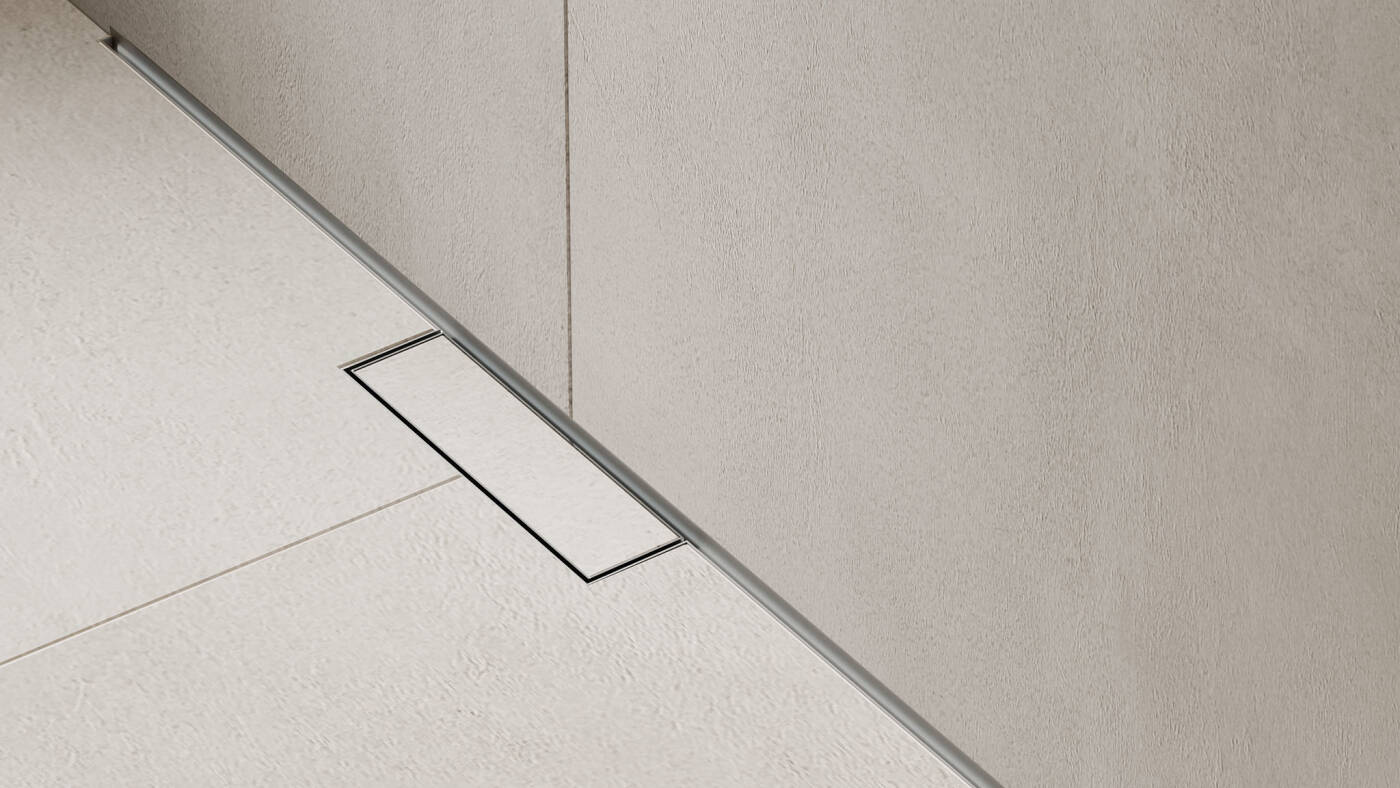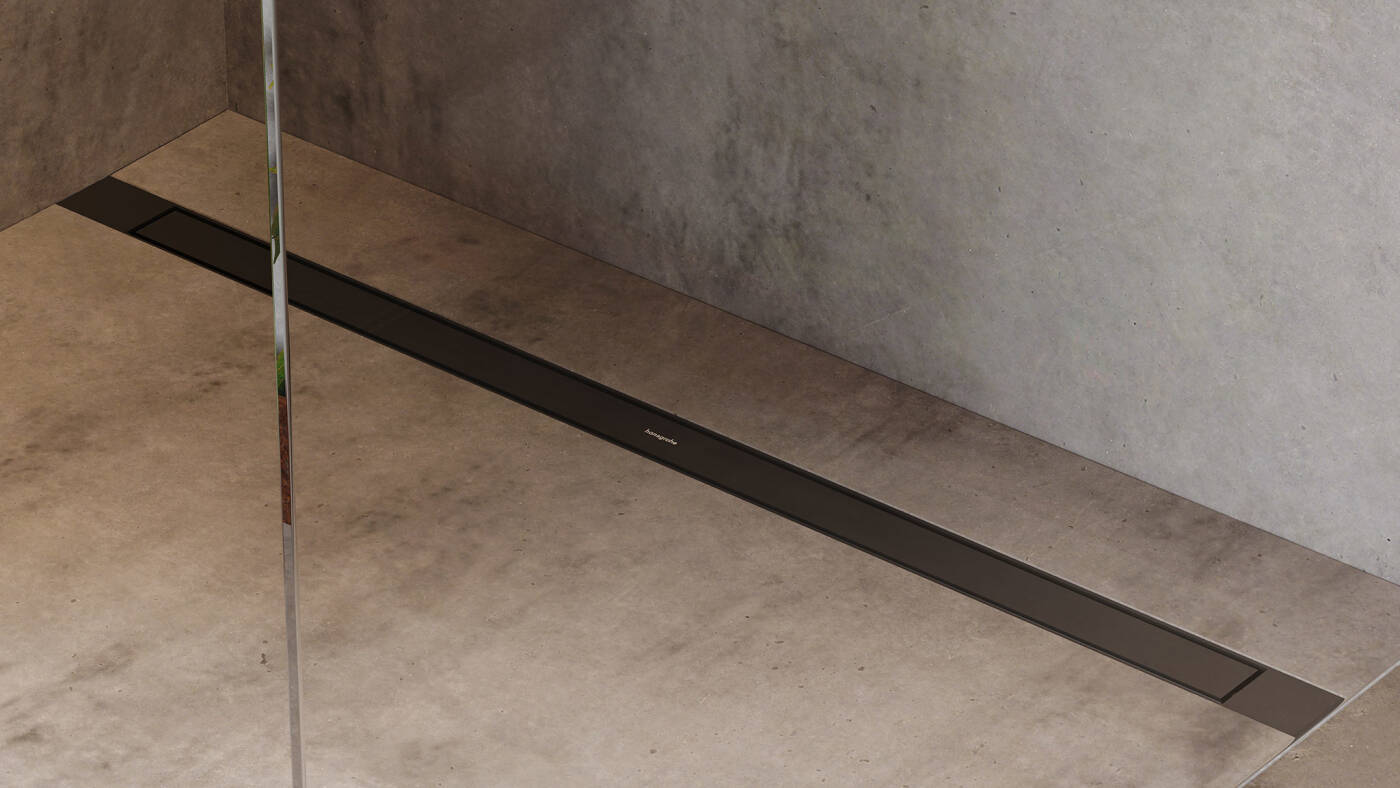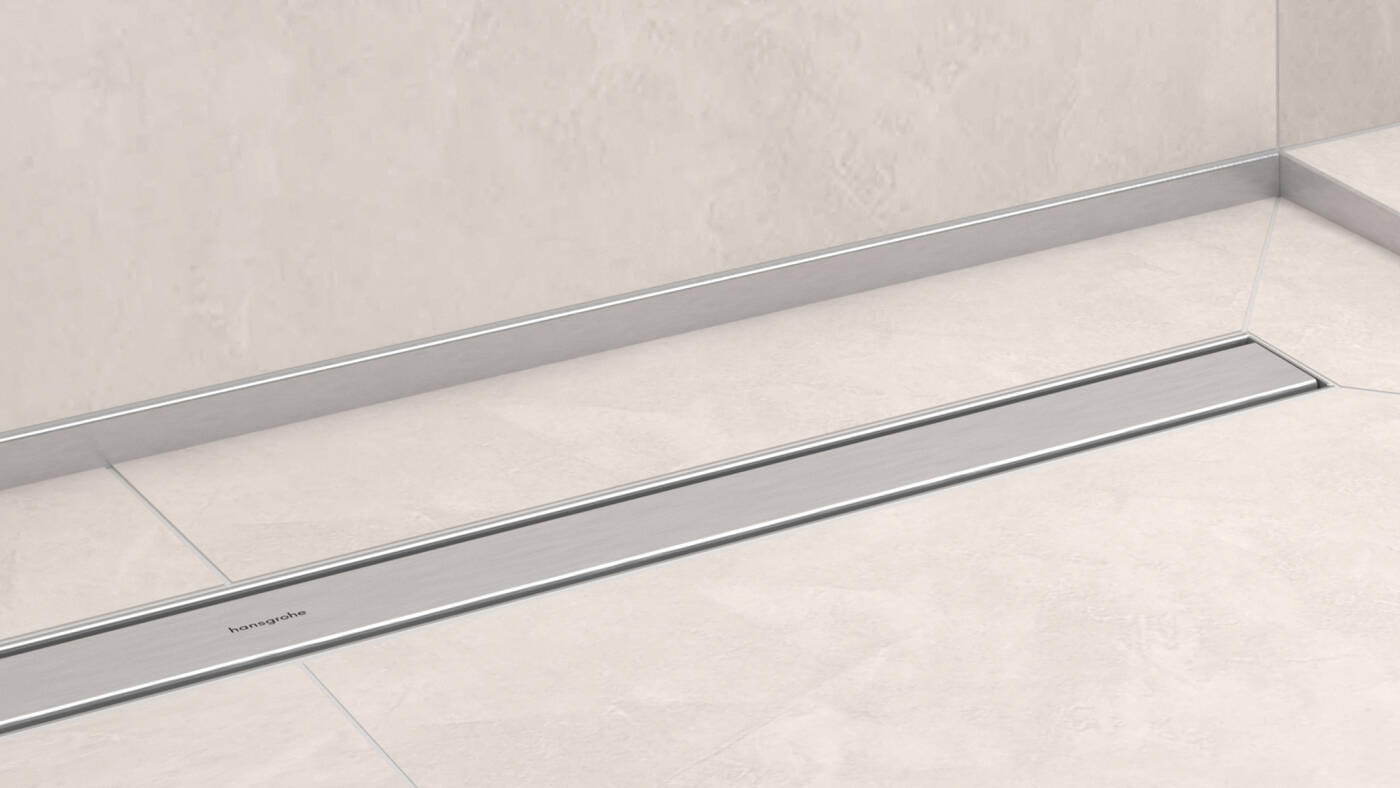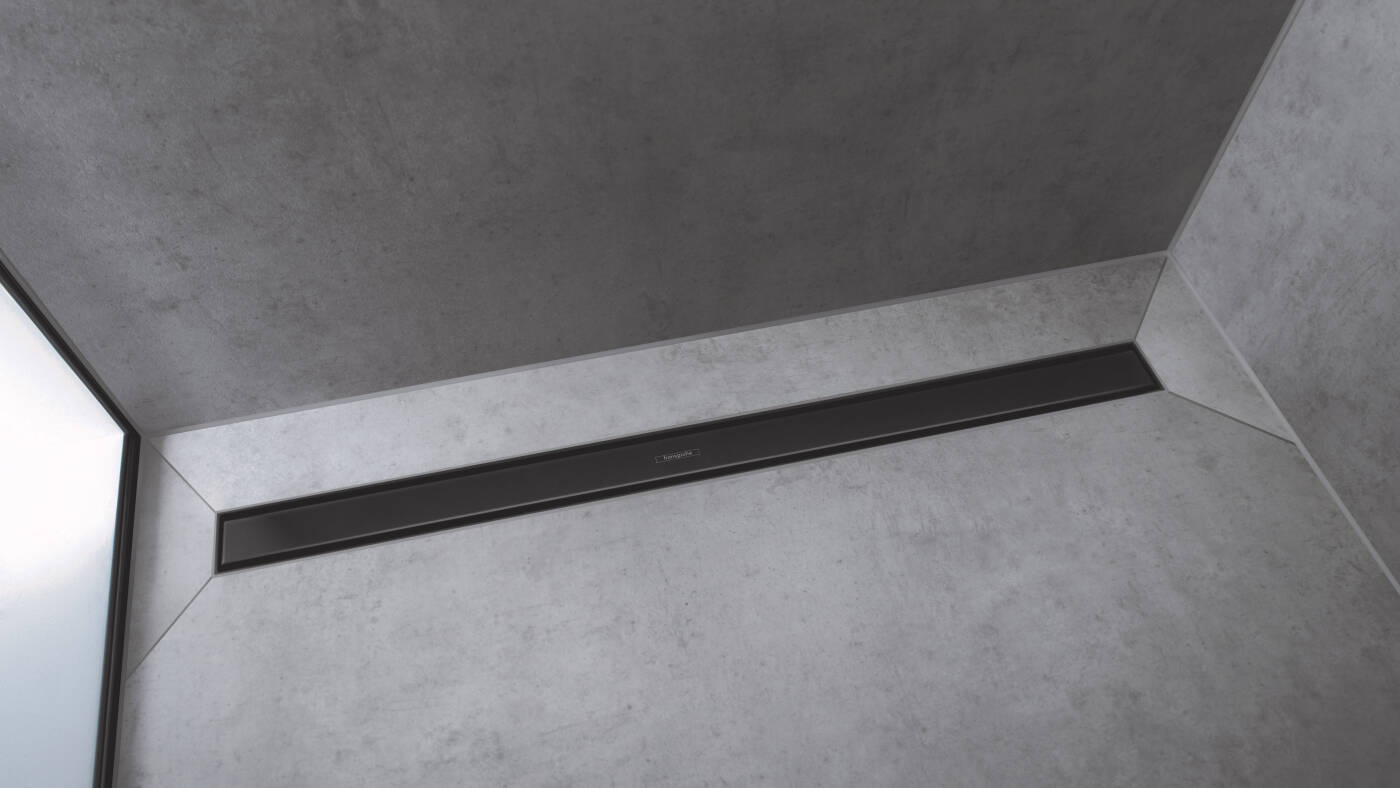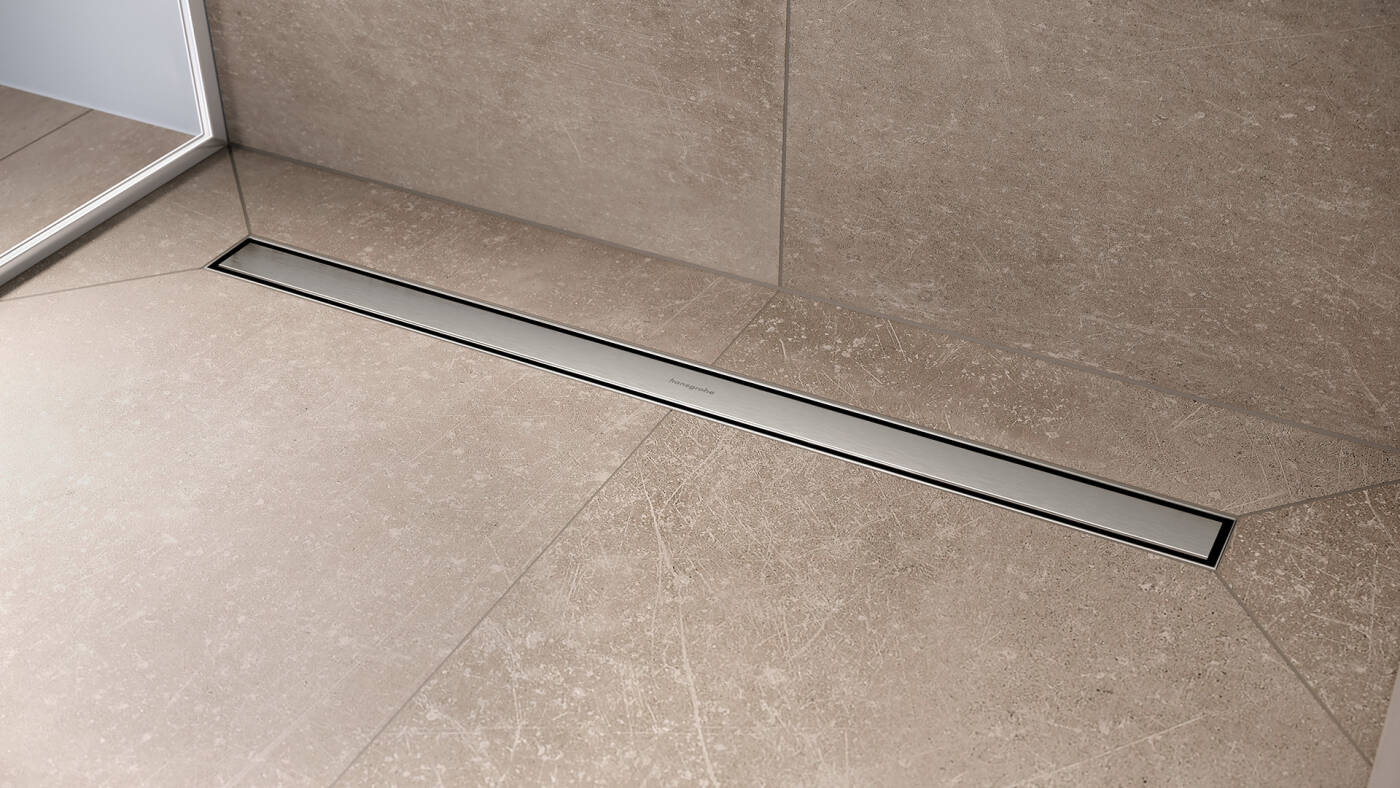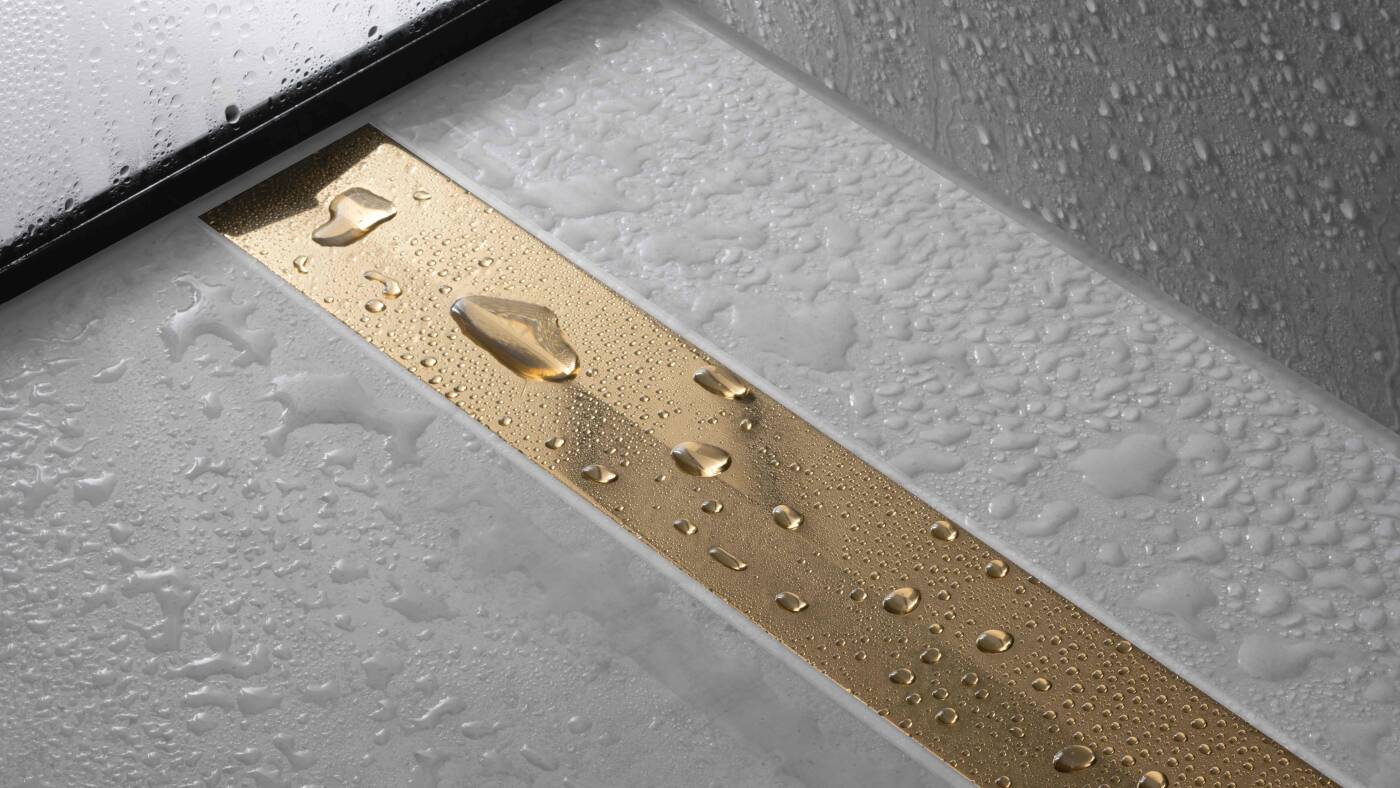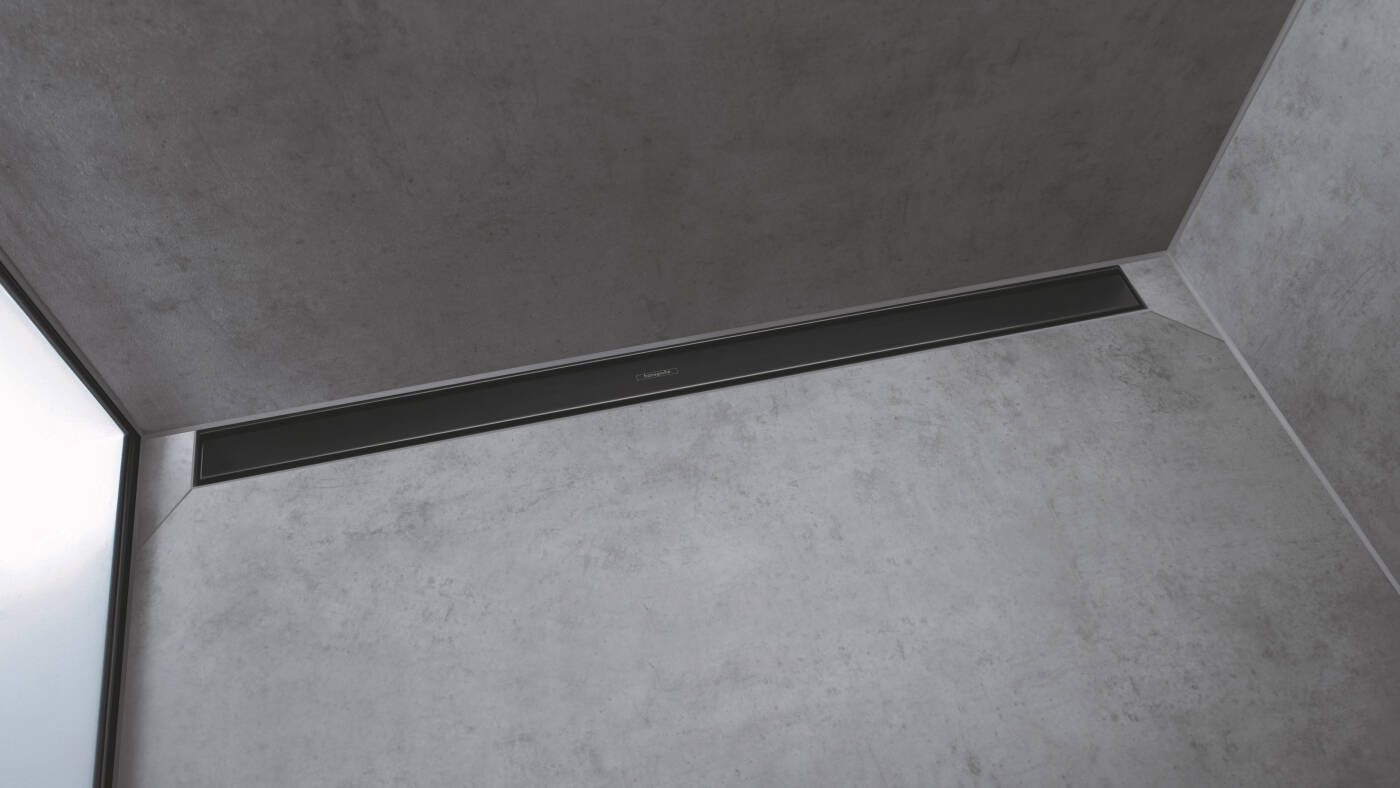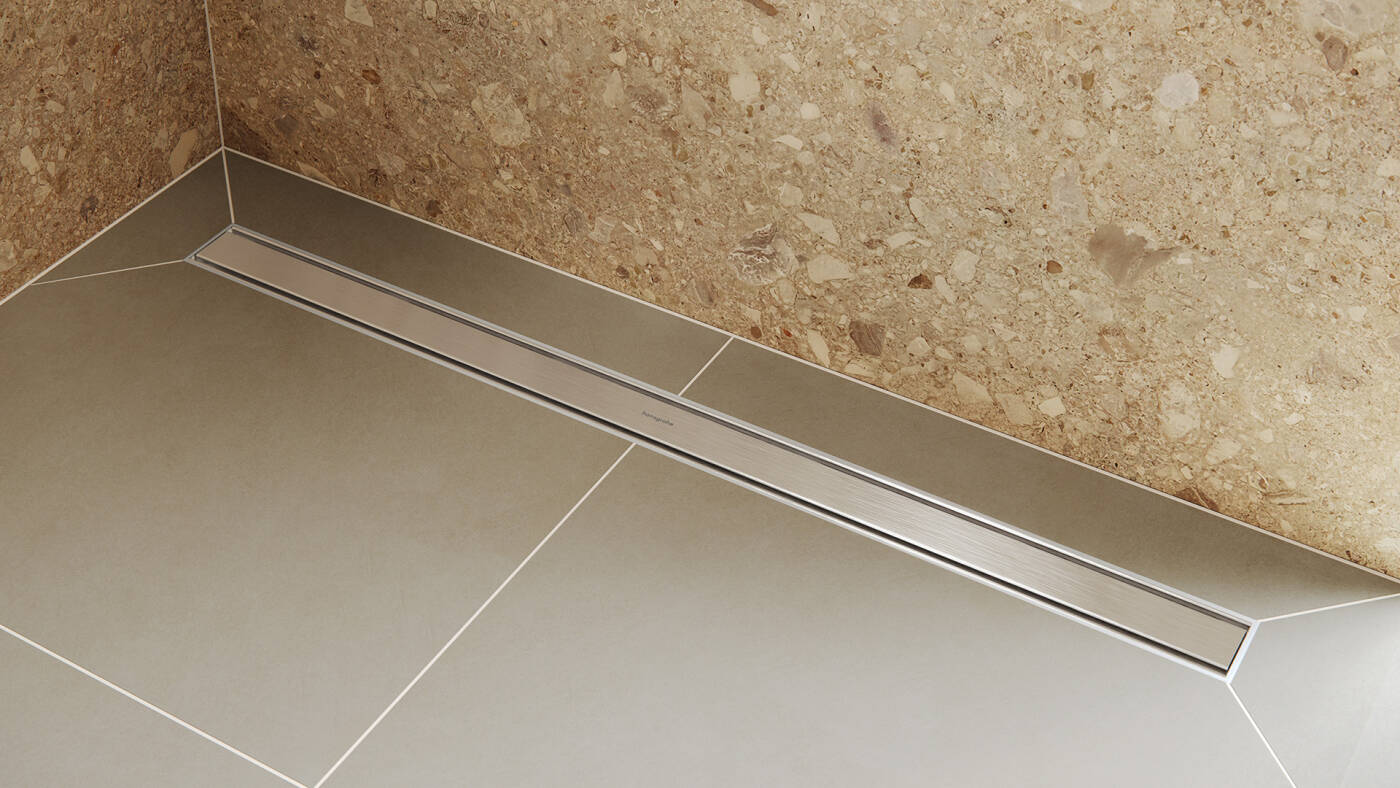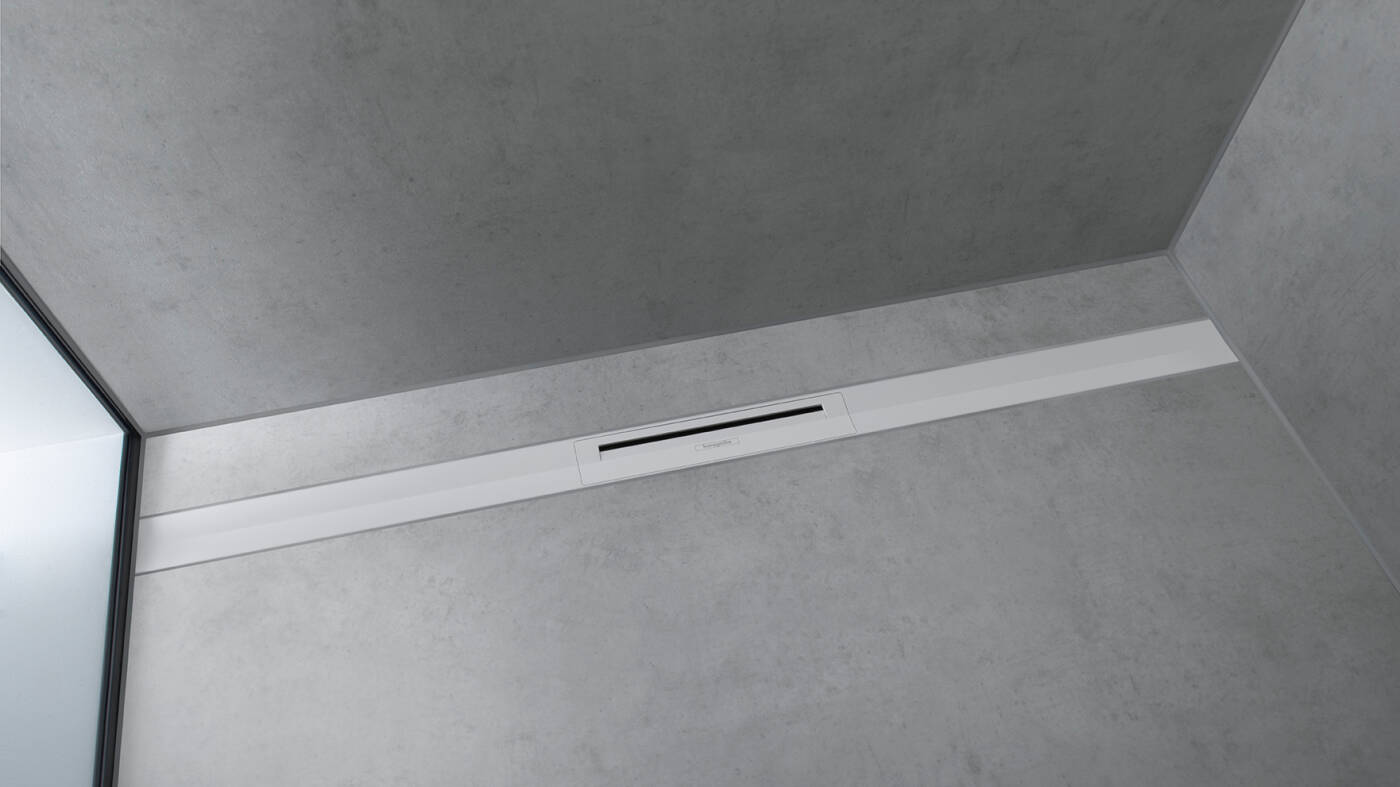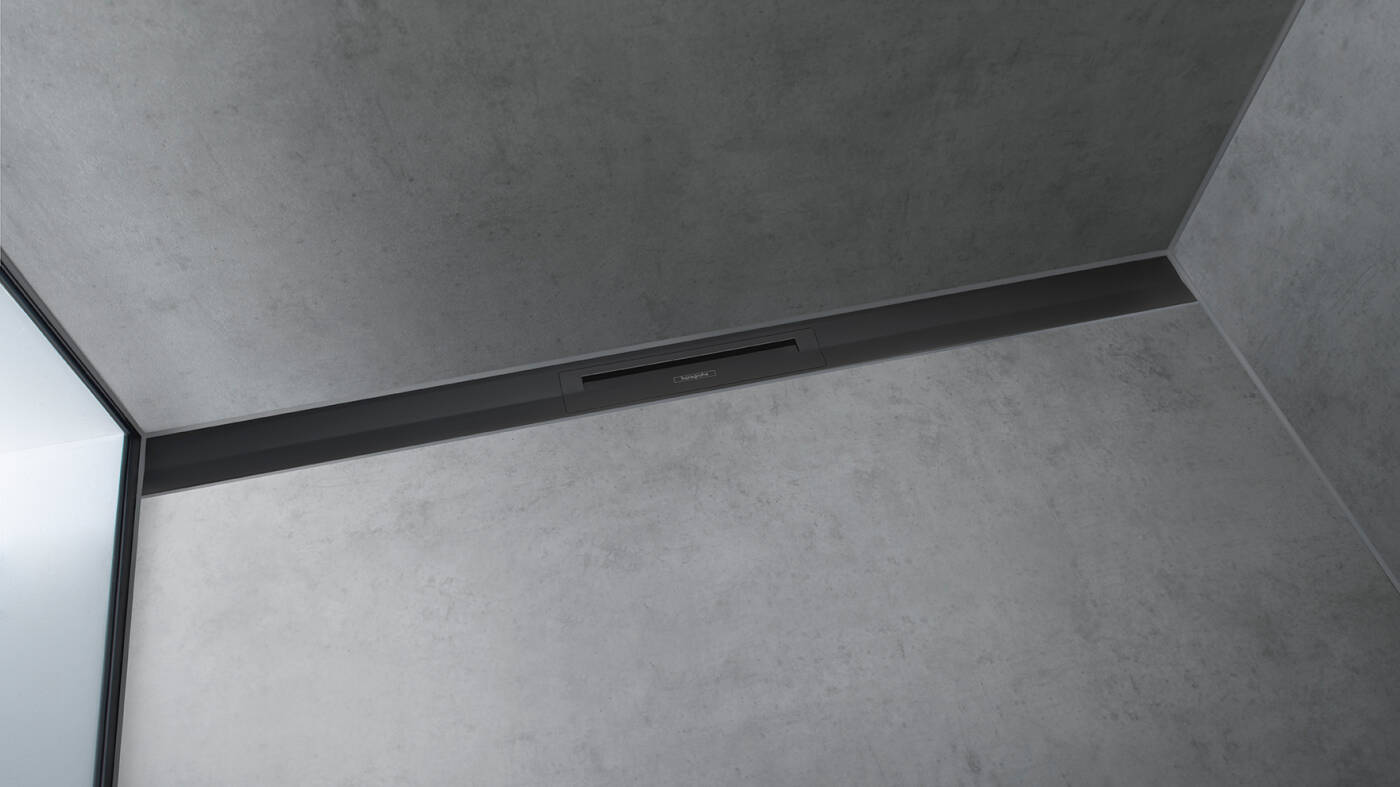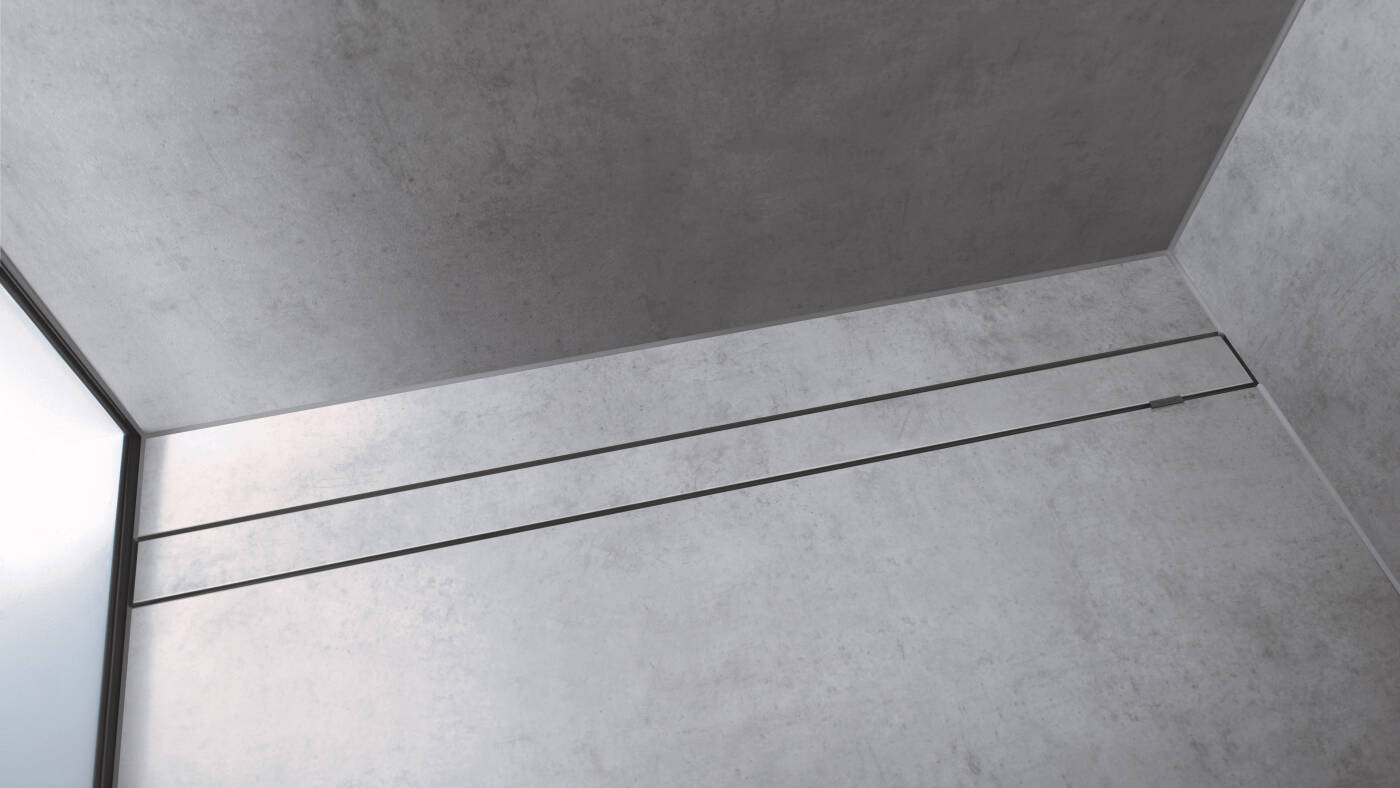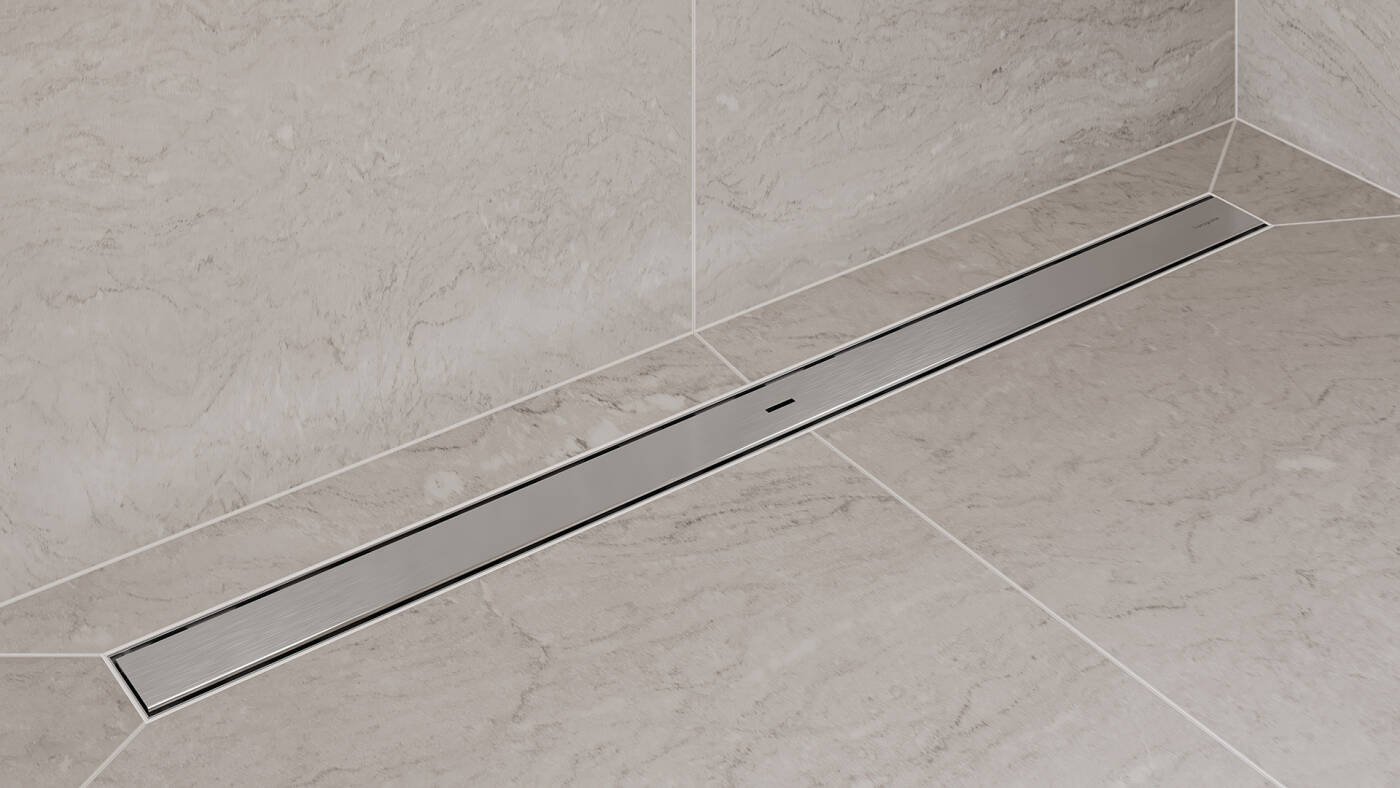 RainDrain Minimalistic
The shower channel in minimalistic design is available in five lengths, 70–120 cm. The pre-fab set in stainless steel is designed for wall installation and consists of a flush, linear wall connection and a drain in front of the wall with siphon (Dryphon). Easy height adjustment with the uBox universal basic set. The design cover can be tiled.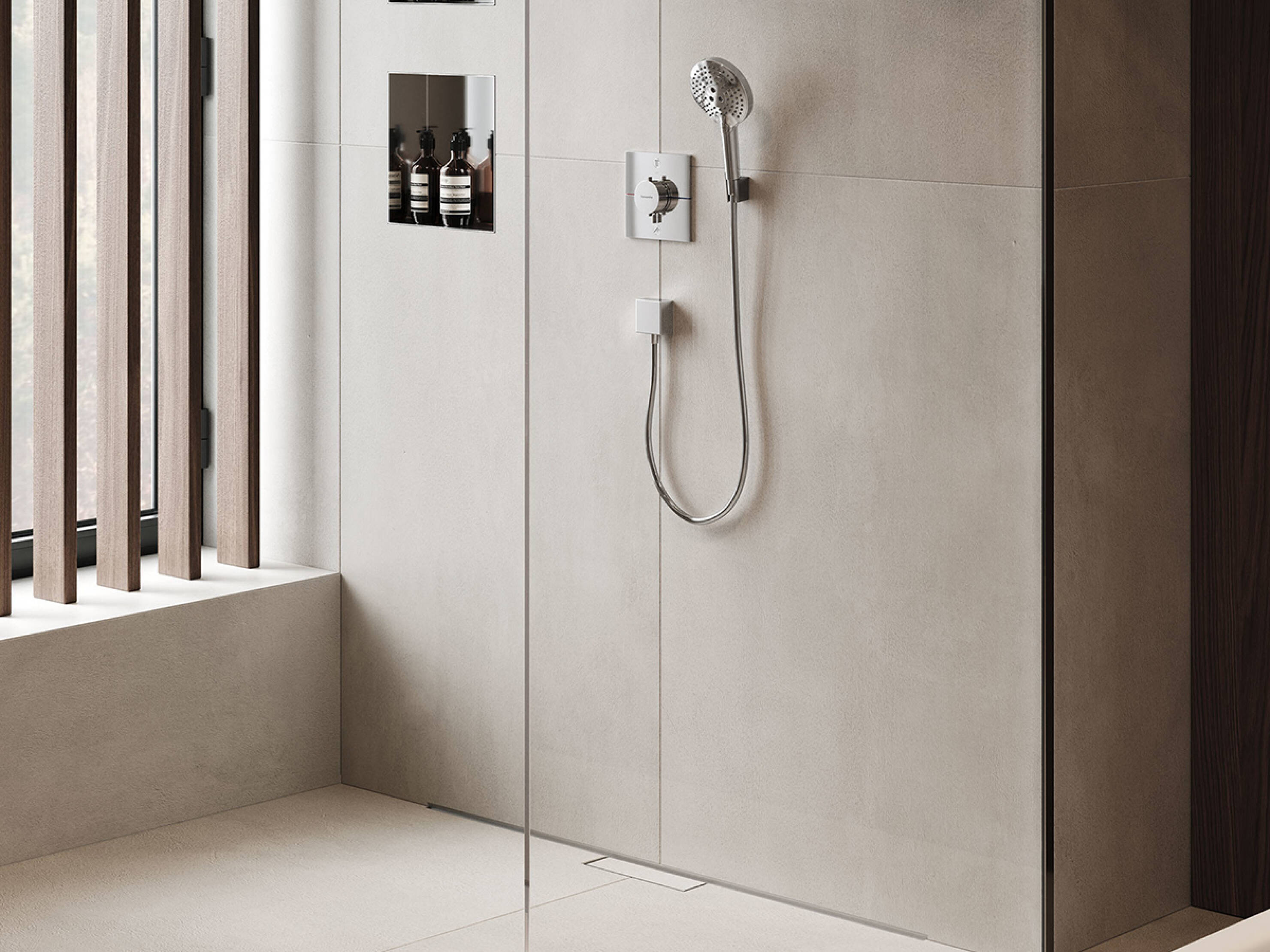 RainDrain Match Plus
The line drain in stainless steel for every bathroom. Effortless installation, on the surface or close to the wall, perfect for installation wall to wall thanks to the elegantly extended frame. Lengths 80–120 cm. Simple height adjustment. Design cover in Brushed Stainless Steel, Matte Black, or Matte White. With Dryphon technology as standard.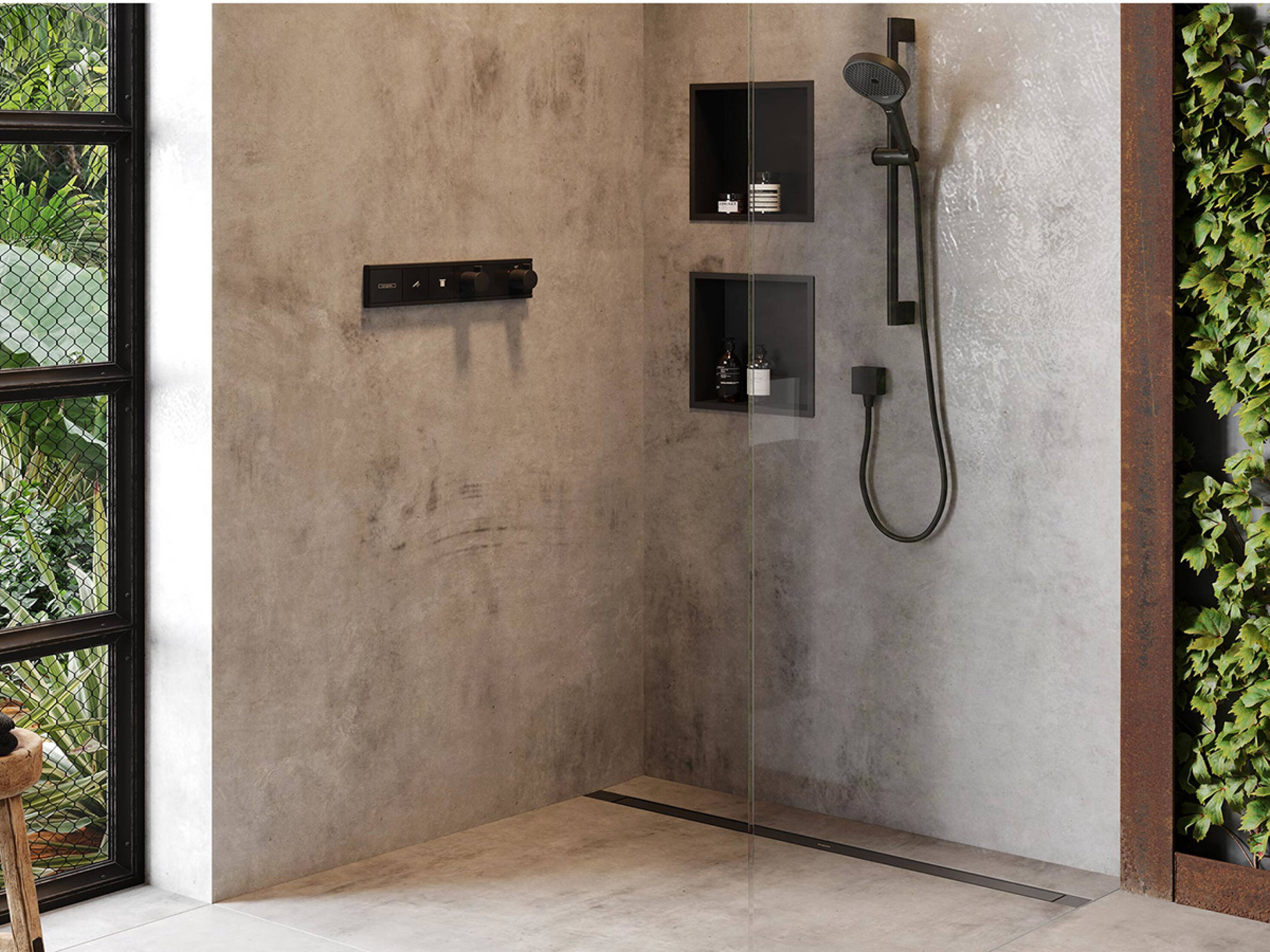 RainTurn
The perfect solution for slope compensation in tiled showers on the edge of the shower area: RainTurn in Stainless Steel offers a stylish wall connection, length 120 cm, can be shortened, and a wall connection for slopes up to 2%. Suitable for both left and right hand-side installation and height-adjustable.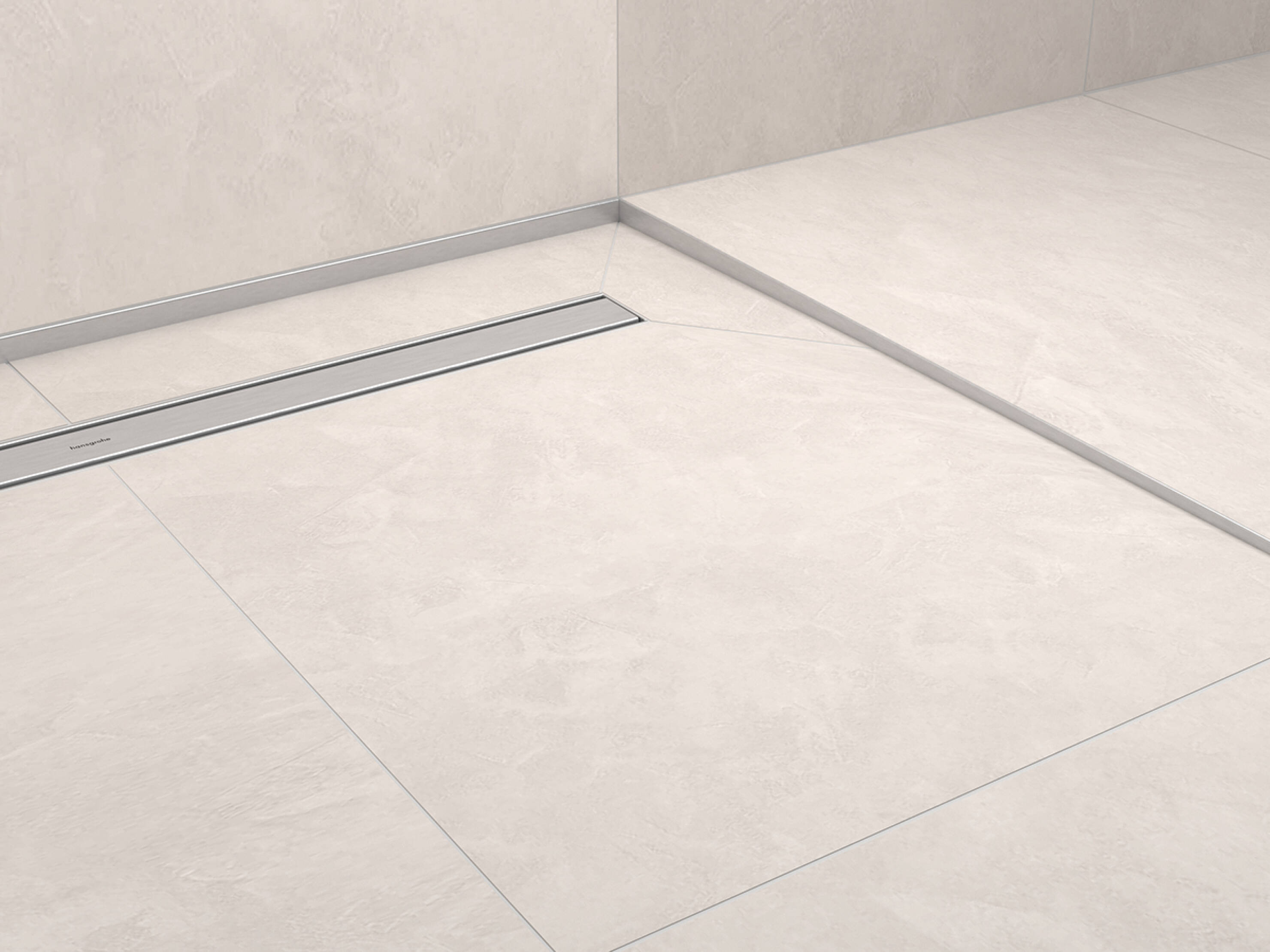 The perfect drain for any situation
The wide range offers a variety of options for shower drain planning. Which RainDrain variant best suits your customer's bathroom?
RainDrain Match: the shower drain channel for every bathroom. Water runs down the slope of the stainless steel channel below the cover to the drain. Six lengths, 600-1200 mm. For the design cover, surfaces in Chrome, Brushed Stainless Steel, Varnished Stainless Steel, and two glass surfaces are available. Backside can be tiled (not recommended for variants in glass). Easy adjustment to the surrounding tiled backsplash with height-adjustable frame inserted into the stainless steel drain channel. For wall-mounted or free-standing installation.
RainDrain Flex: The eye-catcher with integrated slope on the design cover. Five lengths, 700-1200 mm, can be shortened on site. Available in Chrome, Brushed Stainless Steel, and five exclusive FinishPlus surface finishes. RainDrain Flex, unlike the other lines, is laid on the screed, with height adjustment using the oval plug-in connection to the basic set. For wall-mounted installation or installation between two walls.
RainDrain Rock: Designed for tiling with natural stone/tiles up to 40 mm thick. The water is concealed as it drains away. Six lengths, 600-1200 mm, each can be shortened on site by 50 mm per side. Easy height adjustment on the installation set, for installation fitting the space.
Getting to the point of drains
Learn more about the choice of tasteful hansgrohe point drains. Which design is best for your customer's overall bathroom concept? There is the choice of: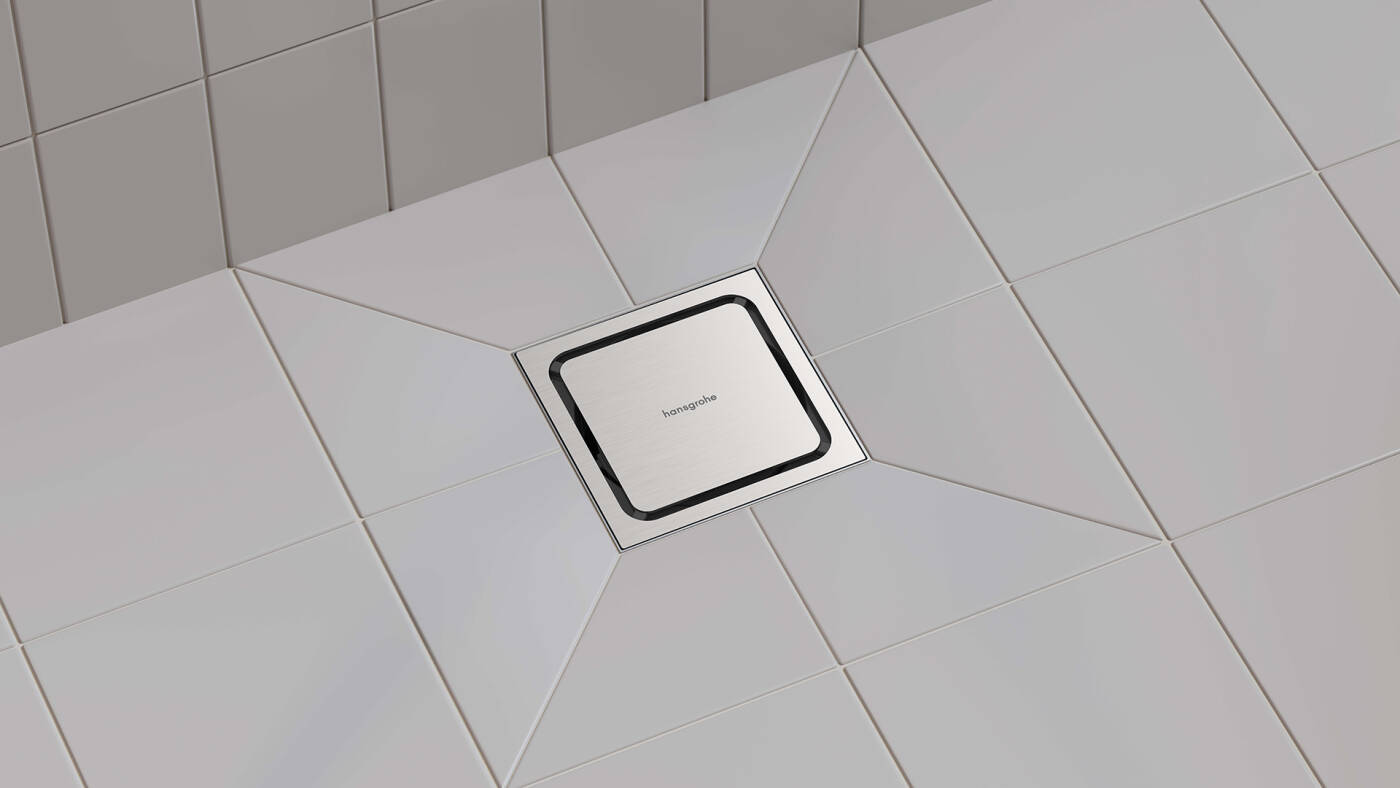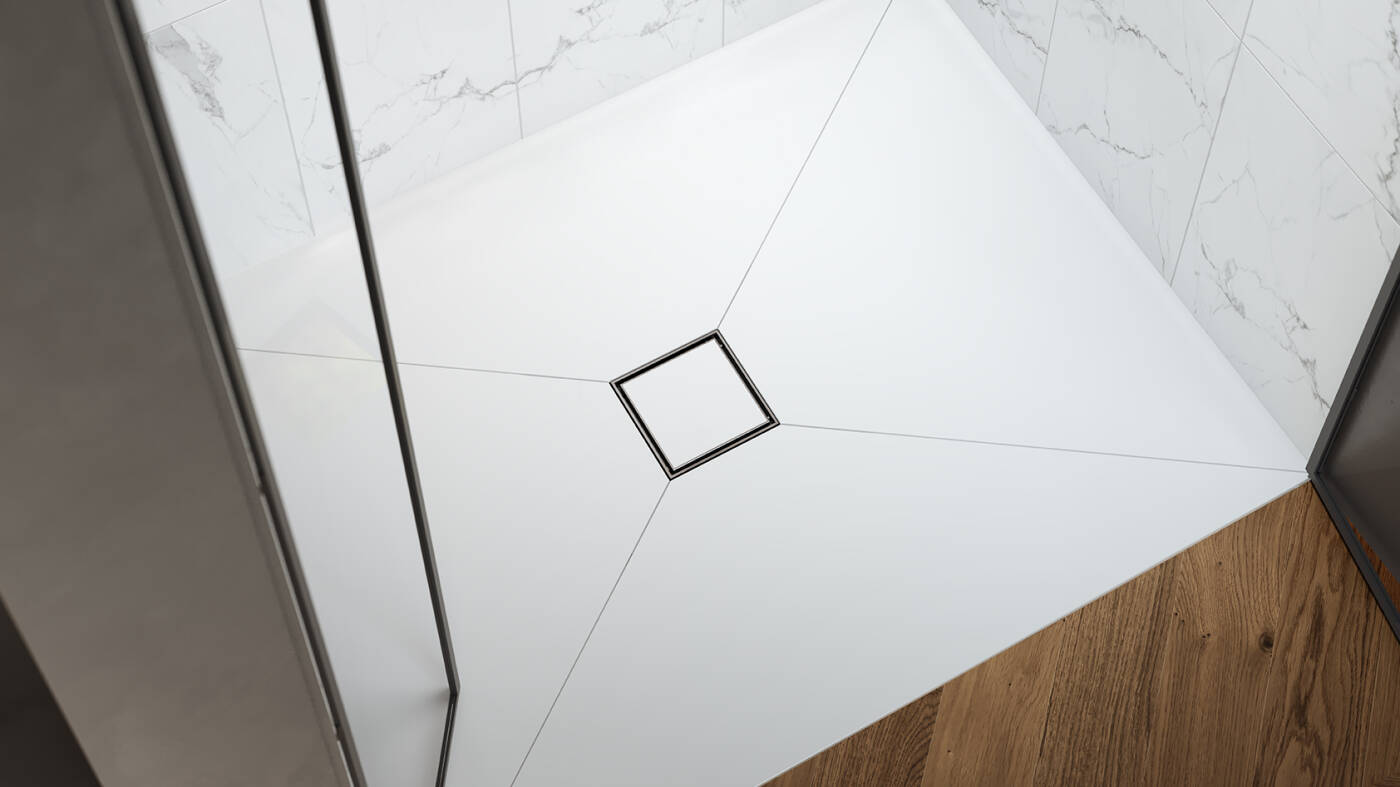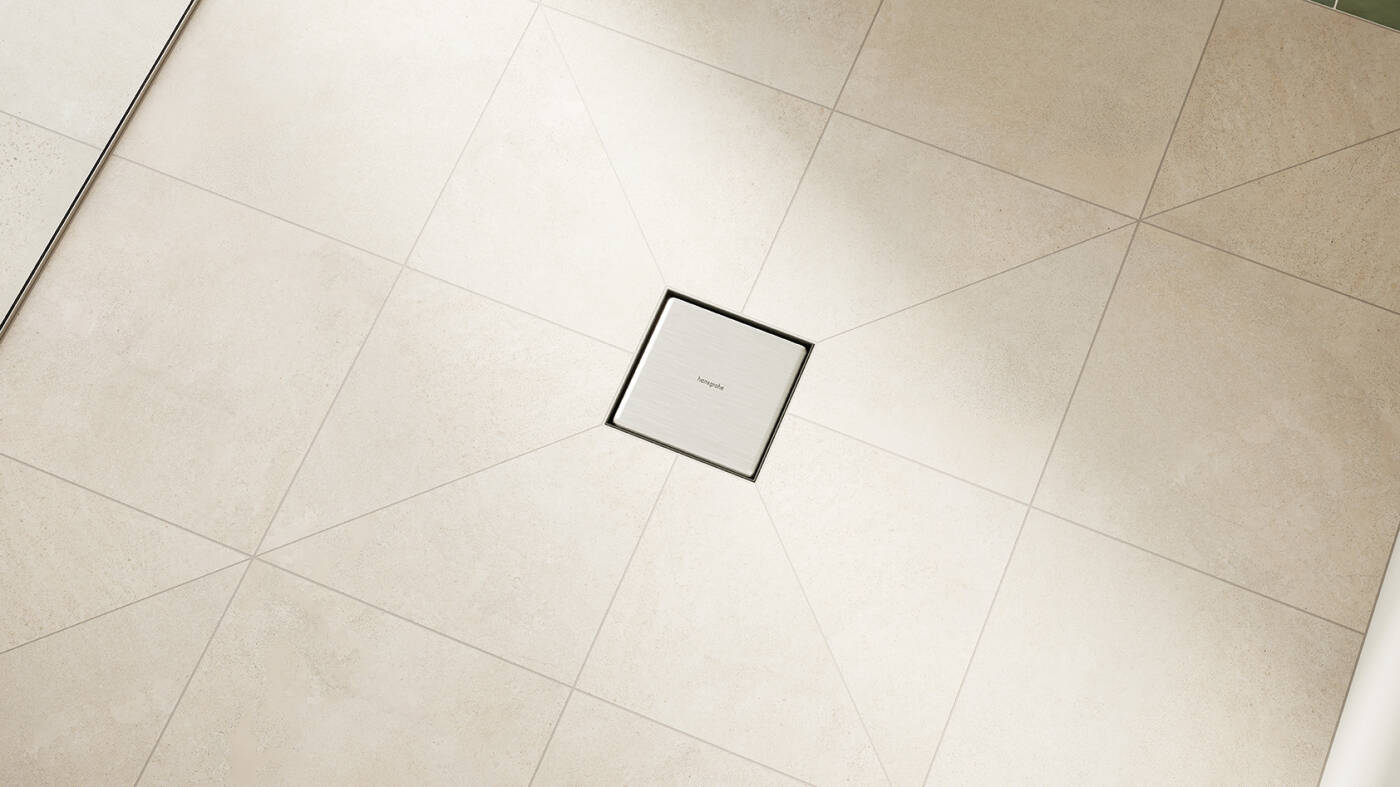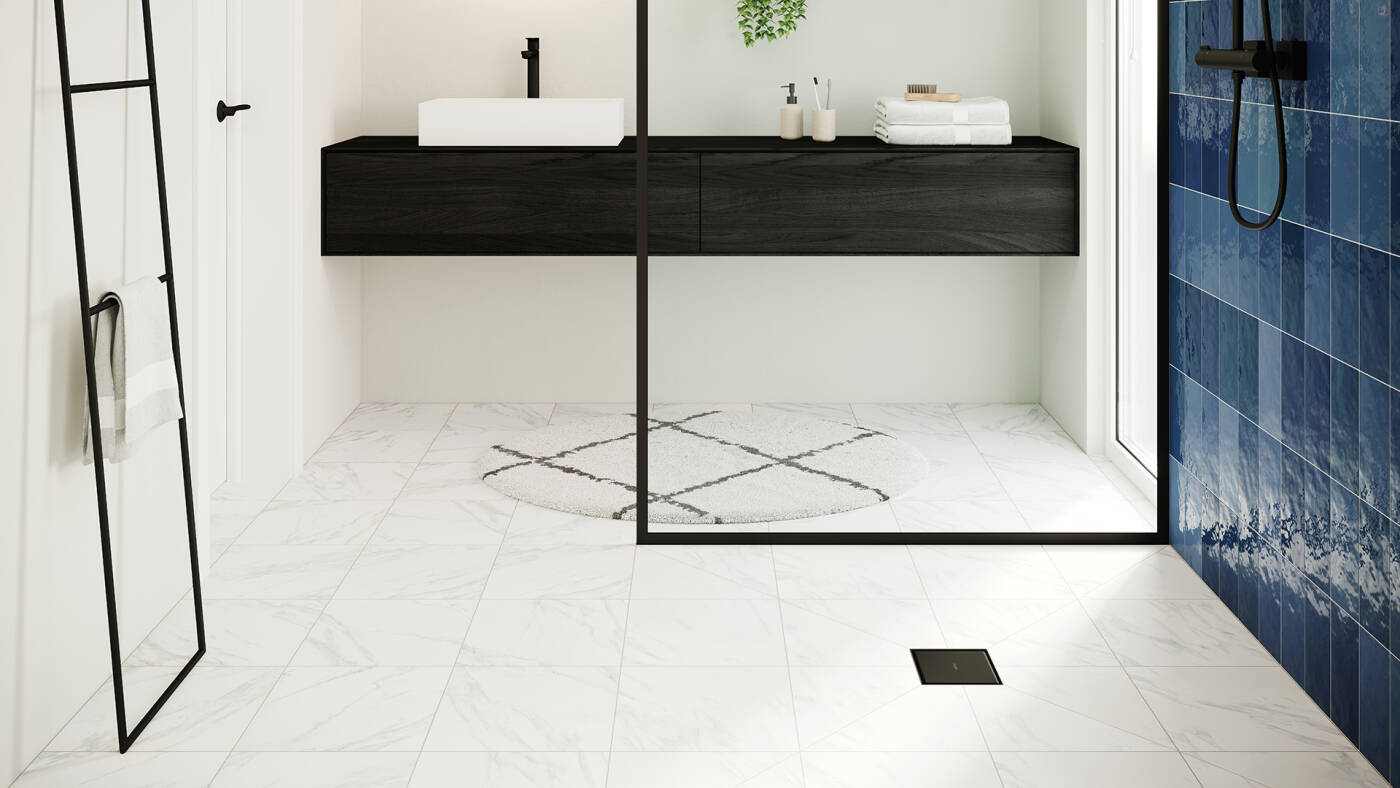 Our point drains at a glance
RainDrain Spot: Point drain for installation anywhere in the space and maximum flexibility in placement. Dimensions: 150x150 mm. Cover in Brushed or Textured Stainless Steel, can be tiled on the back.
RainDrain Brilliance: Premium point drain for unique design. Rotatable designer panel in Brushed Stainless Steel, tileable on the back, in two sizes: 100x100 and 150x150 mm. Height-adjustable tiled frame (5-18 mm).
RainDrain Point: Suitable for all bathrooms. Designer panel available in 100x100 or 150x150 mm in Brushed Stainless Steel or Matt Black, tileable on the back, easy to adapt to the surrounding height. Also available as a stainless steel perforated grid.
All hansgrohe point drains come with a pre-assembled seal, hair catcher, and siphon.
High-quality solutions for the shower drainage channel and point drain
uBox universal: a basic set for all installation scenarios
hansgrohe is expanding its range to include a basic set for all shower drainage channels and installation scenarios. Your benefit: efficient storage thanks to a uBox universal model for all linear drainage designs.
Pre-assembled seal for secure sealing in the joints to prevent water damage.
Flexible installation: Three connections suit almost any installation scenario. The height and designer cover (pre-fab set) can still be adjusted in RainDrain Match and Rock once the screed has been poured.
Versatility: uBox universal is suitable for primary (standard) and secondary drainage.
Excellent product quality ensures safety at the building site and satisfaction for customers.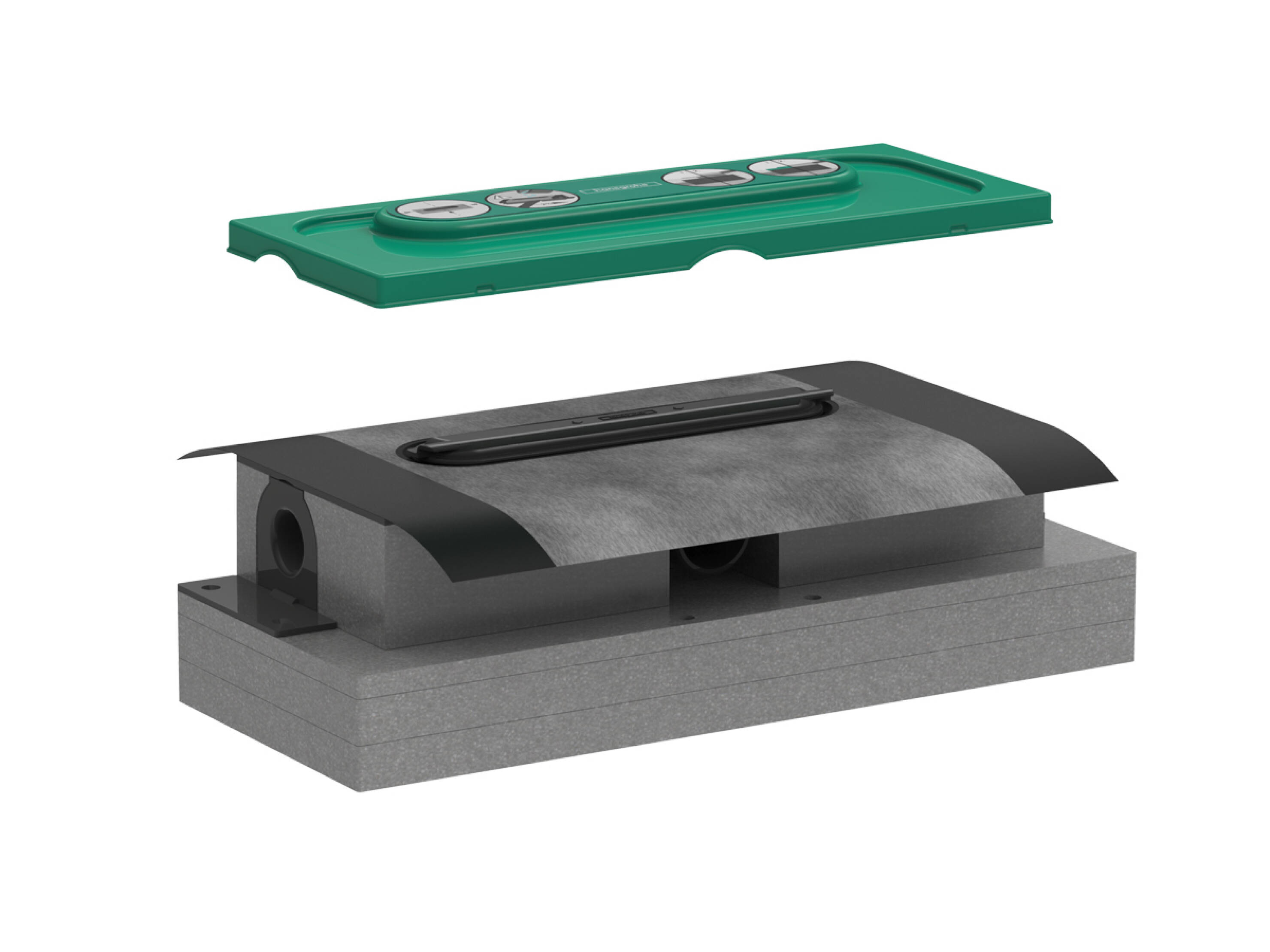 Check out more hansgrohe novelties